Clear Lake Rest in Lucerne 2015.04.27 10:27


This is a great rest stop.
I don't recall ever having Clear Lake as a destination. It is always a way stop on our way somewhere else, usually the Casino up the road. No dogs are allowed on the grassy side (north side) of the parking lot.
Pay attention to the parking lot: The East end is both an entrance and exit. The West end is only an entrance.
Coming from either direction, East or West, the first drive is always an Entrance. Needless to say, that is the logical way to have it.
The best hot dogs across the street at Fosterís Freeze, including good chili dogs.


Another park is located about a mile West on Hwy20, but parking is only along side the road. And there are no hot dogs nor root beer floats. Both parks have swings and slides for children.

In the picture, a Western Grebe has a fish in it's mouth. This is a great picture with the reflection of the dock. Looking west, in the distance, is the last of the coastal range, and beyond sight are the towns of Ukiah and Willits, and beyond that is of course the ocean.
2010.10.02
Clear Lake:
Lucerne

2010.10.02 Clear Lake:

After releasing this mantis, it conspicuously fluttered high into the air where it was seen and attacked by two black birds. The frenzied ball of wings fell to the ground. On the ground the squabble turned into a standoff. The mantis reared up in defiance, displaying an impressive posture, and then attacked the two black birds. Now, I ask: is this "gaining the initiative", stupidity, or coolest bluff? I could not believe the result of the battle: The mantis won! The two birds flew away.

I ran over and picked up the "lucky" mantis. It seemed unhurt. I placed it into a tree, and wished that I could have given it an award or something.



Robinson Casino:
This is more than a rest stop. This is definitely an overnight stay. RVers are always welcome. Just park at the Western end, as depicted. There will be more than a half dozen Camper shells, Vans, Travel Trailers, Fifth Wheels, Busses, and Motor Homes.
And it will not cost you a dime - unless you go into that pretty building in the background.

The food is great. Inside the Casino there is the smell of smoke, but dissipates with the excitement. The guy next to us won $150 at penny slots. There is the sound of falling coins and bells all over. And we have never had a complaint with the restaurant. The food is top notch. The price is cheep to reasonable.
Robinson Casino:
I was lucky with this moon shot. I had a tripod available to me but I did not use it. I shot this freehand!
Robinson Casino:
Star Thistle is a serious and an invasive plant. But these birds are feeding from it. I observed it and I have this picture. These tiny birds blanket the star thistle in small flocks. First, as a black cloud from above, and then as a spotted blite. They hop around in thick weeds unincumbered, chattering incessantly.
2011.04.27
I don't know why they call ClearLake "clear". It is not clear.
It is full of algae, although at least in this picture - very pretty.

And there is always a dead carp; a stinking carcass under the water surface or on the shore.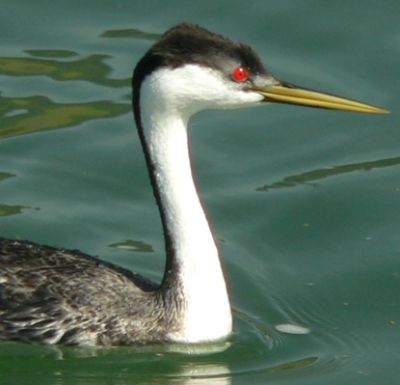 Western Grebe

Western Grebe

Clear Lake 2011.Apr.28
I don't know what kind of bugs these things are, but they are all over the place. Don't leave your windows down or your mouth open. They are sort of like mosquitoes, but do not seem to byte. And they are too small for Crane Flies.

Someone said they are Midges...
In 2015.04 we witnessed a huge vertical swarm 10 feet wide and 50 feet high. Reminded me of a supper large ant swarm, except "more better", as my brother would say.
Clear Lake 2011.Apr.28
"The Woofer". All aboard...