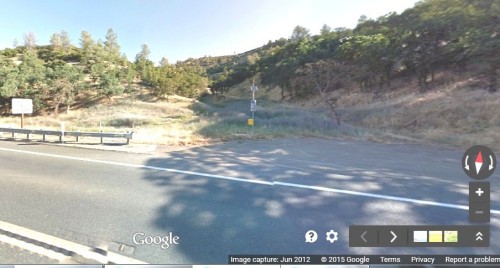 13 miles from Clearlake Oaks.
This picture was taken in Jun of 2012 by Google.
You can clearly see that the Call Box, and that it was clearly there before I pulled in the rig.
You can also see the need of an extreme turn to the right if one has a trailer in tow, more than 90 degrees upon immediately leaving the pavement. Then a sweep around the edge, being careful not to let the rig stop to early. I had to keep it coasting until the nose of the van is pointed back out to the pavement.

There was no engine power, little brakes, and little steering. It took all the strength that I had.

The tail of the trailer was out of the margin and at the edge of the pavement; Later, the Highway Patrol would ask how well I was off the road.