| | | |
| --- | --- | --- |
| | NTSC SYNC DETECTOR | |

Sensor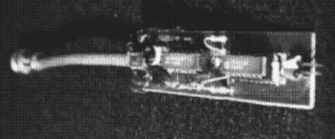 Size:
4.1 in by
1.0 in by
0.5 in.


Standard BNC CONNECTOR Connects to video source being monitored.


QUAD CONNECTOR. Uses standard telephone cable with a connector that is compatible with all other sensors.


Detects missing NTSC SYNC. Typically from one to 100 horizontal lines.


Sensor will remember and LATCH UNTIL READ BY THE COMPUTER.


Sensor uses POSITIVE LOGIC: Transmits a low (0V) when sync has been MISSING.


OPERATION: uses a phase lock loop at 15 khz.



APPLICATIONS:
BYPASSING video gear upon failure.
DIAGNOSTICS for study or AUTOMATIC ACTION.
Video HISTORY or RECORDS.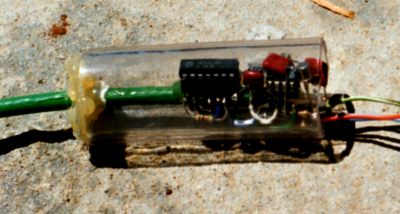 The Start:
about 1993


I invented this circuit, and placed these sensors through out equipment racks and microwave gear. From the start, these sensors were designed to work with my control system. They did not work perfectly, and could not be adjusted critically. But they did work just barely OK.

In about 1993 my first NTSC detectors were placed in plastic PVC tubing. The detectors were not the greatest nor was the protective inclosure packaging.

My first NTSC detectors were not the greatest.
I wrestled with this one stupid aproach for a long time. There are other ways to do it.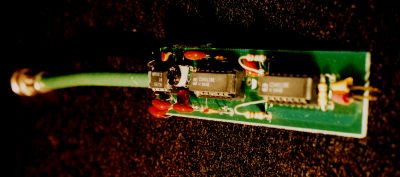 about 1995


I finally gave up at perfection and simply went with something that "worked ok". If video was textbook then they worked fine.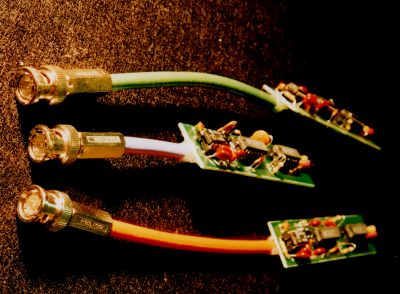 NTSC SYNC DET


I began color coding detectors with colored coax: as I had a personal bend in that direction ever sence the late 1980's.