KINGDOM PLANT VIRIDIPLANTAE Plantae





kingdom VIRIDIPLANTAE (Green plants)
kingdom CHLOROBIONTA (Green plants)




INCEPTION DATE: PRECAM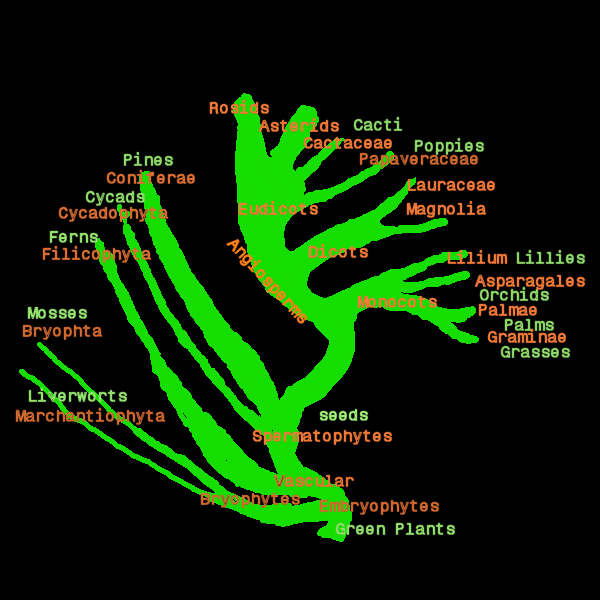 I know nothing about taxonomy. But here is my take on it.





Biomass is rughly (very rughly) represented by thickness.
Biomass should be determinable from the fossil record, but I just don't have the time for it.



Time is rughly represented by polar distance from lower center.
Several sharp mass extingtions, such as 65 million years ago, are not shown.




subkingdom CHLOROPHYTA (Green algae)

Class Chlorophyceae



Class Prasinophyceae




STREPTOPHYTA

AIR EXPOSURE, SURFACE PLANTS
Complex green algae

INCEPTION POINT:


unicellular scaly green flagellate Mesostigma viride

INCEPTION DATE:


terrestrial streptophyte algae 455 million years ago, (algae go terrestrial, air exposure, and direct sun light.)

Definition:


cell differentiation; cellulosic cell wall, multicellularity, root meristem, asymmetric cell division


cytokinesis by a phragmoplast


retention of zygotes





STREPTOPHYTA
Class Charophyceae (StoneWarts)





CORMOPHYTA

Bryopyta (Mosses and Liverworts)


HEPATICAE (Liver Warts)




Class ANTHOCEROTAE (Horn Warts)






Class MUSCI (Mosses)







subkingdom TRACHEOPHYTA (Vascular Plants)



division Tracheophyta