VIDEOTEK-10 VIDEOTEK-12 SWITCHERS



Top switcher is an RS12
Bottom switcher is an RS10
Both switchers are controlled by one MCU CONTROLLER in a plastic box.








| | | |
| --- | --- | --- |
| | CONTROLER RS-10 and RS-12 AUTONOMOUS MCU | |


A VIDEOTEK RS-10A switcher can be programmed for BCD PARRALLEL LINES. This option is used...
A Videotek switcher can NOT adequately be driven with 5V. Voltage levels for BCD MUST BE 0 TO 12V. Voltage levels rest at zerro volts, and active is plus twelve volts.





SCHEMATIC for BCD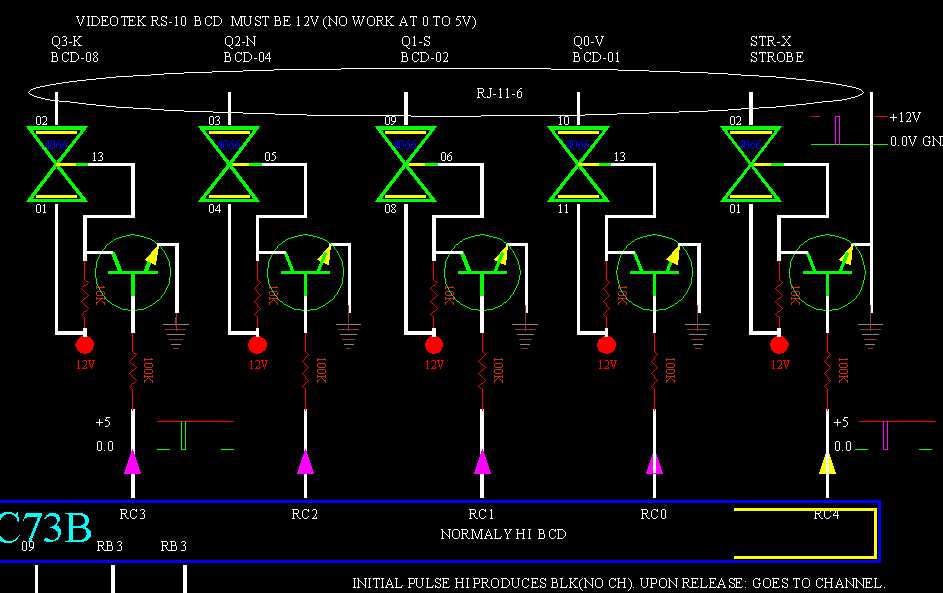 CONNECTOR M


 Q3 is  PIN K  BCD VALUE-08 
 Q2 is  PIN N  BCD VALUE-04 
 Q1 is  PIN S  BCD VALUE-02 
 Q0 is  PIN V  BCD VALUE-01 
 STROBE PIN X